The New Grey in Town: Greige
It's all around you, yet you might not know it. It is everywhere, yet you might not see it. It's the designer's little helper, yet you've never seen it discussed in those glossy interior magazines. It's greige.
Ever Heard Of Greige?
Believe it or not, the term "greige" has been in vogue since the golden era of Armani in the 1980s. The term is an obvious mixing of words "grey" and "beige". To be honest, we're not sure who made up the word. We think it's probably a term which was created by a clever colourist. However the term came about, greige is the name given to the hues created from blending browns, blacks, greys, tans and whites. While the description of the creation of greige sounds bland, the hues it creates and the uses for them is far from that.
Source: http://www.italianbark.com/interior-trends-love-greige/
Greige As 2017 Trend
This group of hues is very flexible. Designers use it in a myriad of styles, from traditional button-up decor to minimalist contemporary designs which push the boundaries of modern slick, it will blend itself to any situation.
Now you know about these tones, take a look around. You'll be surprised how much greige is in the fabulous designs featured in magazines, television shows and the movies.
If you haven't already joined, it's time to get on the wave and find out what you can do with greige. Here are some handy ideas to get you started: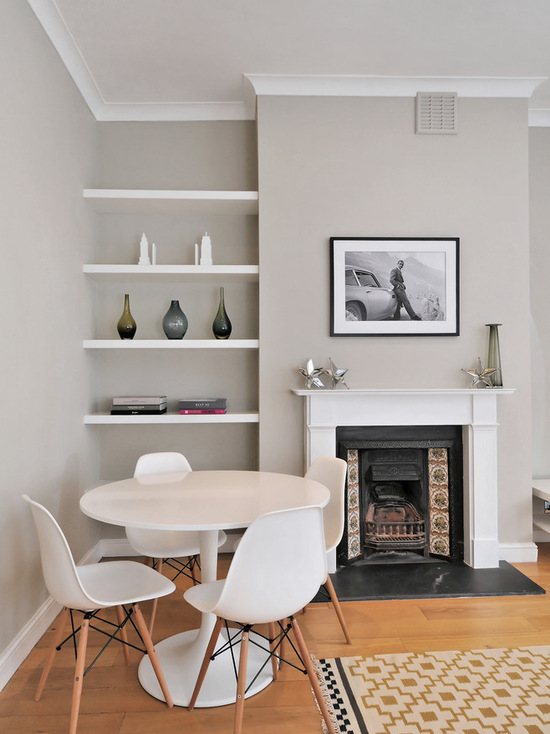 Source: http://www.interiorsbycolor.com/farrow-ball-elephants-breath/
Greige Unique Magic Colour
The magic number of colours for decorating is three.  However, if you limit yourself to only three colours, it can be a bit tricky to get them work together, without competing or looking too blocky. It can also be difficult to find a tone which will blend all your colours together. If you find this to be the case, greige might just be the ticket for you!
The fact greige is made up of whites, tans, black, browns and greys means it can act as an anchor for other colours, even if they do not usually pair well together in a design context. For example, greige can be used to weigh down airy designs utilising tan and white. Ordinarily, such a light colour palette would be at risk of being wishy-washy, however adding greige anchors the other two feature colours and provides a feeling of depth.
Using greige can also give you the precise tone you desire, without having to opt for overwhelming colours. For example, if you want to bring in a grey tone into a room, but you feel a block grey would overwhelm the space, try using a greige with a higher ratio of greys to browns. This will give you the feel you want, in a light neutral colour which will match the rest of the colours in the room.
Let Your Design Heroes Shine
Sometimes the best designs are based on one piece of furniture; we call the "hero" piece. It could be a dining table, a coffee table, a lamp, a sofa, anything. Place a greige wall behind it, and you can be sure it will highlight your hero piece, not overwhelm it.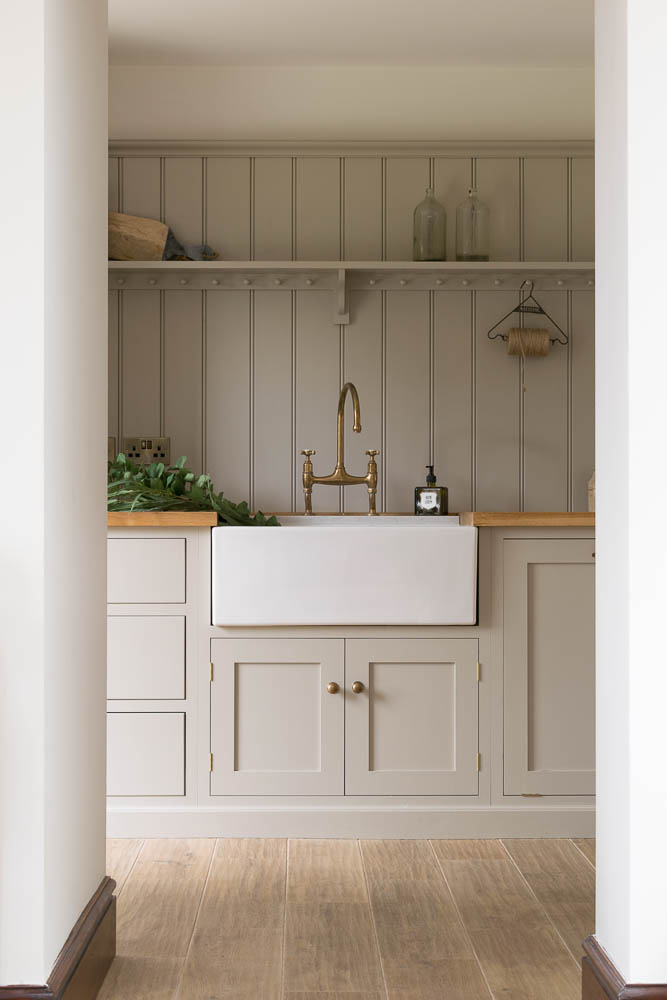 Source: https://www.floorsofstone.com/blog/oak-farm/
Get The Temperature Just Right!
Greige warms up cool spaces and cools down warm spaces, all without disturbing the vibe of the dominant colour pallets.
It is a great addition to any modern design. For example, it provides a little warmth and looks great as a feature wall behind a black and white photo, paired with a gorgeous white linen sofa and black stained wooden floors.
Greige does equally well as a feature wall behind burgundy, plum and grey tone soft furnishings and heavy walnut-brown hard furnishings, as it gives keeps the warmth in spaces being too dark and brooding.
You could also consider using greige as a seasonal colour, for example,  in soft furnishings, such as pillows and throw rugs to warm up a light summer room in winter. Or why not try using greige tones together to create vibrancy in a room, without being overwhelming. For example, a throw rug with dark and light greige stripes would be a lovely textural and tonal addition to many a bedroom and living room around the nation.
Time To Get Greiging!
Now that you know about greige, we challenge you to find an application where it would not work! From traditional to modern designs, small intimate rooms to spacious, airy rooms, greige has a tone which will make your design concepts sing.
So, next time you are working on a project, and you want a fresh look, or you just can't connect the colour elements, why not give greige a go, you might be delightfully surprised!
Hampstead Design Interiors work on London Residential Interior Design projects, we can consult with you, and help with as little or as much as you require.  Please get in touch with a member of the team today for a further discussion about your next interior design project.